This post was last updated on March 6, 2023.
Jump to read

Software companies prefer the subscription-based business model as it comes with a recurring revenue stream. A subscription management tool helps support growth for B2B SaaS businesses.
The popularity of this model among SaaS businesses is on the rise. In fact, according to recent statistics, the subscription billing management market is set to grow to 7.8 billion by 2025 at a compound annual growth rate of 14%.
The world is slowly becoming customer-centric, and this has contributed to this popularity.
However, to streamline the recurring billing and payment collection process for a better customer experience, you'll need proper subscription management. If you're interested in seeing how Younium can help you with subscription management, you can watch Younium in action here.
What is subscription management?
This post covers everything from the definition, how a subscription model works, its benefits, recurring revenue, and more.

Here is a closer look at everything.
What is Subscription Management?
Subscription management refers to the process of overseeing customer subscriptions, ensuring their onboarding process is smooth, and providing great service throughout a customer's journey.
This includes signing contracts, customizing plans & payment schedules, renewal, upgrades, and downgrades, up to the point where a customer cancels their subscription.
Managing subscriptions is also about the technology used to make all this happen. It refers to software that tracks the whole process and streamlines it.
These processes enable companies to create a satisfactory experience for their customers and to recognize revenue accurately.
Therefore, subscription management can be one of the ways your business can nurture customer relationships by improving their overall experience.
And a large part of managing subscriptions involves subscription billing.
What is Subscription Billing?
It is a model where subscription businesses have specific, recurring payment schedules for different clients. These revenue schedules may differ from client to client.

As opposed to traditional pricing models that rely on one-time payments, subscription billing is recurring.
Businesses develop different versions of their products, customize them based on customer needs, and provide them at a fee for a specified period. This way customers get access to a range of products, and businesses can realize different levels of revenue.
Besides providing a range of products, subscription pricing enables businesses to create additional value from different services.
The system you use to manage subscriptions in turn streamlines payment processing and ensures that revenue is recognized successfully.
The revenue for a specific time period is fixed and customers can choose to pay monthly, quarterly, or annually. Companies can use these amounts to make revenue predictions and make financial forecasts.
Subscription billing, however, shouldn't be confused with subscription management as these terms are different. Here's the distinguishment.
Subscription Management Vs Recurring Billing
Though used interchangeably, recurring billing software differs from subscription management software.
While a subscription management platform encompasses all the client's activities from the start to finish, a recurring billing platform only manages products and payments.
Therefore, a recurring billing tool can be a part of the larger subscription management system. It supports product pricing, invoices, and payment collection.
Subscription management on the other hand includes all that plus:
Customer service and support

Sales onboarding

Tracking revenue

Tracking customer preferences

Email communications

Managing free trials and demos

Reports and analytics

Making changes to subscription plans
All these activities require complex software instead of a simple billing system. It also requires integration and collaboration from the finance, sales, and customer service departments.
Therefore, choosing the right subscription management tool is crucial for any B2B company that provides software as a service. What is subscription management software?
Let's take a look.
What is Subscription Management Software?
A subscription management software solution allows businesses to automate their subscription billing processes. Businesses use such software to manage recurrent billing, revenue collection, revenue recognition, and renewals.
With the right technology, B2B companies can normalize their payment terms and product packages. They can also:
Consolidate their renewals

Suggest upsells and cross-sells

Notify customers of new services

Recommend custom pricing options

Provide personalized billing

Provide accurate quotes for your sales team

A simple subscription tool may not be suitable for most Software as a Service (SaaS) businesses.
To understand what type of subscription management software you need, you should first understand the process of how it works.
How the Subscription Management Process Works
As mentioned earlier, a subscription management software solution is built to ensure proper subscription revenue recognition and help improve customer satisfaction.
Behind the scenes, the system supports an automated data flow enabling customers to interact with it from the front end, and account managers and sales representatives to make changes to customer subscriptions at the back end.
Managing such tasks manually can be tedious and time-consuming, not to forget prone to errors. Human errors can lead to huge losses in revenue and an increase in customer churn.
Subscription management systems make the seemingly complex nature of recurring revenue collection, tracking, and recognition easier.
They further enable integrations with other systems that contain customer information and history such as CRM and financial systems, collecting data from these platforms seamlessly.
Here is a breakdown of how subscription management tools streamline this process:
1. Customers Subscribe to B2B Products Over Any Channel
At the pre-onboarding stage, your sales team approaches clients to pitch your SaaS solution to them. Your prospects would want to view your subscription products and plans from your website before agreeing to another meeting.
An admin uses subscription management software to set up subscription products and establish different pricing models, including live demo options.
They then integrate this into a channel such as your website where customers can easily access from the front end.
Most B2B SaaS businesses prefer contacting sales teams at this point to come up with customized plans that fit their specific needs.
2. Sales Teams Interact With Clients Who Need Help
For most B2B SaaS companies, clients have several interactions with the sales team before and after buying a subscription.
They may request changes to their subscription packages. They may negotiate deals with sales representatives and get their prices reduced before purchase.
In any case, the sales team will have access to the subscription management system at the back end to be able to change items such as pricing, etc.
For instance, if a client asks for a discount, they can easily make the change. This helps sales teams to offer incentives to resistant prospects and ensure nothing is left on the table.
Other alterations include introducing new pricing models, reducing quantities in a product package, updating promotional deals, and so forth.
This way, businesses can introduce upsell and cross-sell opportunities more accurately and efficiently.
3. Customer Service and Sales Teams Nurture Client Relationships
A subscription management solution enables your teams to interact with customers on an ongoing basis. This way, you can grow your customer relationships and increase customer retention rates.
Here's how this process works.
With discounts and offers, teams on the back end can convince clients to upgrade to better plans or encourage renewals.
Similarly, you can provide a seamless upgrade process for clients already using your software solution. This includes having a pricing strategy that pro-rates payments even when customers upgrade in the middle of their recurring billing cycle.
These systems also enable your teams to monitor customer subscription history and make more personalized offer recommendations.
You also need to keep generating revenue from your existing client base, even if they do not upgrade. Hence, you can use your subscription management platform to automate your renewal process.
4. Finance Teams Generate Invoices for Timely Payment
Your subscription management system keeps an accurate record of your billings and helps you avoid mistakes that would have occurred if the information was fed manually.
The best subscription management software has access to all this billing information and tracks revenue changes. They get this information from your financial system, helping you produce accurate invoices for every payment.
This not only ensures that your customers have a smooth experience but also helps remind them to make their payments on time.
5. Built-In Close of Subscription Communication
When a customer's journey ends with you, it's not always the end of subscription management. Rather, it could be an opportunity to nudge them one last time to stay or ask for feedback to improve your product and service.
Remember that once you have a repeat customer, you establish a relationship with them that goes beyond revenue collection.
A good subscription management tool can help you minimize involuntary churn. It can also help you collect feedback from customers who cancel their contracts, which you can use to draw some insights and improve your business.
Now, how do you know which subscription management system will work best for your needs? What features should you be looking out for when shopping for a tool?
This next section looks at some must-have features for a subscription management solution that will serve you and your clients efficiently.
Features to Look for in a Subscription Management Solution
To run and grow a SaaS business, you need to have a customer-centric approach. For this, your subscription management software solution needs to have features that make transaction management and billing easy.
All your revenue recognition and payment functions need to be automated. Your finance as well as customer service departments ought to be seamlessly integrated into your system.
These are the top 7 subscription management software features you should be looking for when selecting a solution.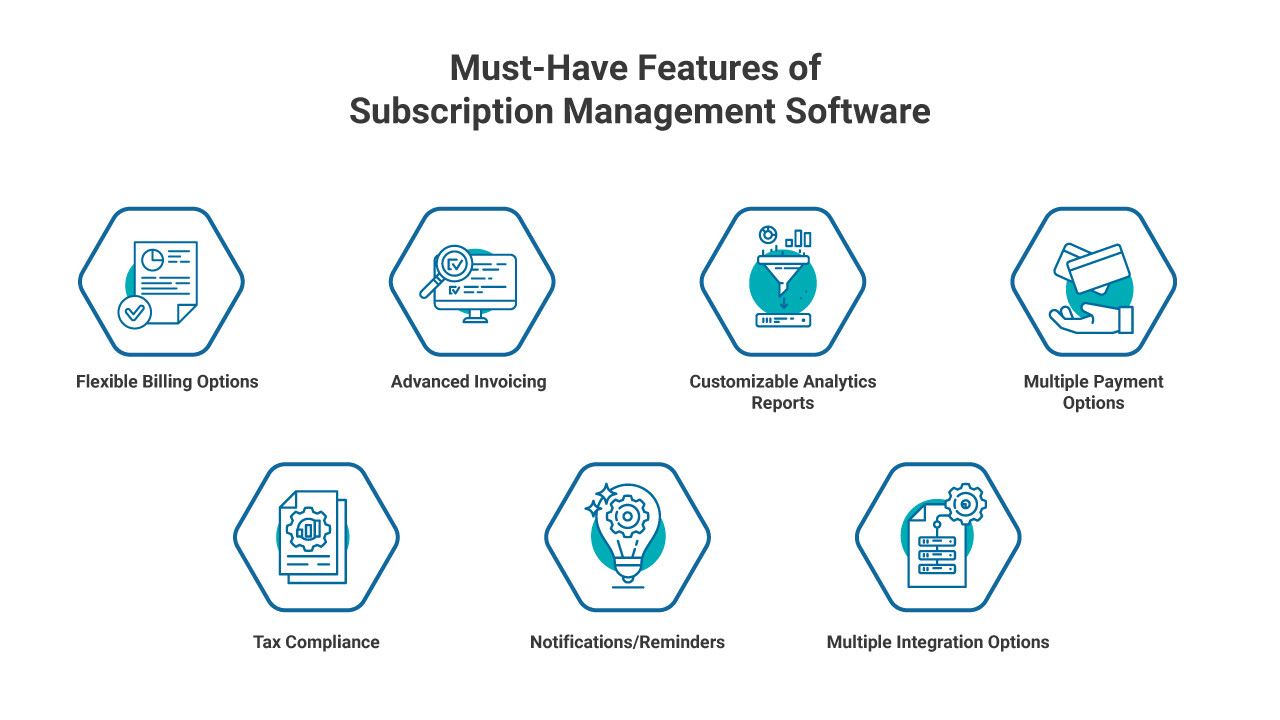 1. Flexible Billing Options
Subscription management platforms should have the ability to support multiple pricing models. As a SaaS business, you'll want to give your customers the flexibility to choose between plans depending on their needs.
SaaS subscription management software should allow you to offer different pricing types, including fixed pricing plans or user-based plans, custom plans, or freemiums.
Your subscription management solution should also be able to seamlessly manage these capabilities so your sales team will take advantage of them to land and manage deals.
2. Advanced Invoicing
Sending accurate invoices to customers is partly how you ensure your customers make their payments on time.
Therefore, your subscription management solution should be able to automatically and accurately produce invoices for clients for every billing cycle.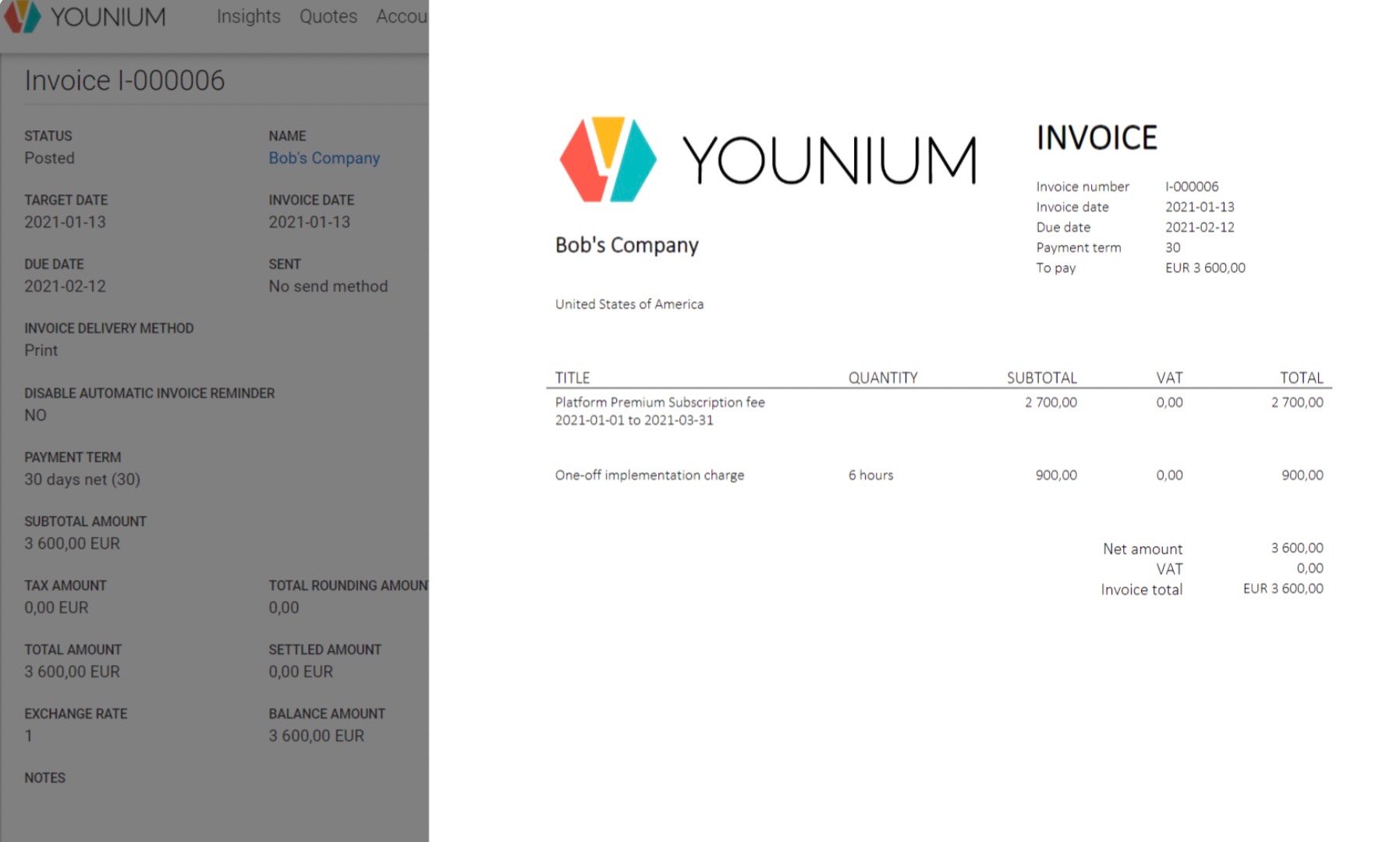 You should check if your software solution can support more complex accounting data or integrate easily with accounting systems to generate separate and consolidated invoices.
Your system's billing engine needs to be unified to speed up revenue collection and recognition.
Also, check that the invoice templates are customizable. This way, you can alter their design and content to modify details like names, logos, company colors, and so on.
It is important to be able to send invoices in local languages and modify them as per regional laws and regulations.
3. Multiple Payment Options
Your SaaS subscription management software should be able to provide multiple payment options for customers. These should include invoices, bank transfers, and more.
Why does it matter?
If you don't provide enough payment options, you may lose prospective clients to your competition. To reduce such incidents, it's important to include as many payment options as you can.
So, choose a platform that provides multiple options. Also, ensure that it offers payments in multiple currencies as that will allow you to serve clients from different geographical locations.
An important part of payment processing is calculating taxes accurately. Let's talk about that in the next point.
4. Tax Compliance and Other Accounting Standards
Your system should have an automated tax compliance feature so your business will operate smoothly both locally and globally.
This takes away any worry about tax updates and calculations, so your business remains compliant with sales taxes, VAT, and other forms of taxation that may apply.
The same thing goes for accounting standards such as ASC 606. SaaS businesses need to adhere to these standards that regulate revenue recognition.
How to know that a subscription management system is compliant?
Look out for features that point to tax compliance and revenue recognition so your auditors can easily navigate your system. You can also check if the system can easily integrate with other tax compliance software.
5. Customizable Analytics and Reports
The information your system collects is crucial to your business as this is the data you'll use to identify trends, track essential subscription business metrics, and gauge your business performance.
Here is an example of one such report.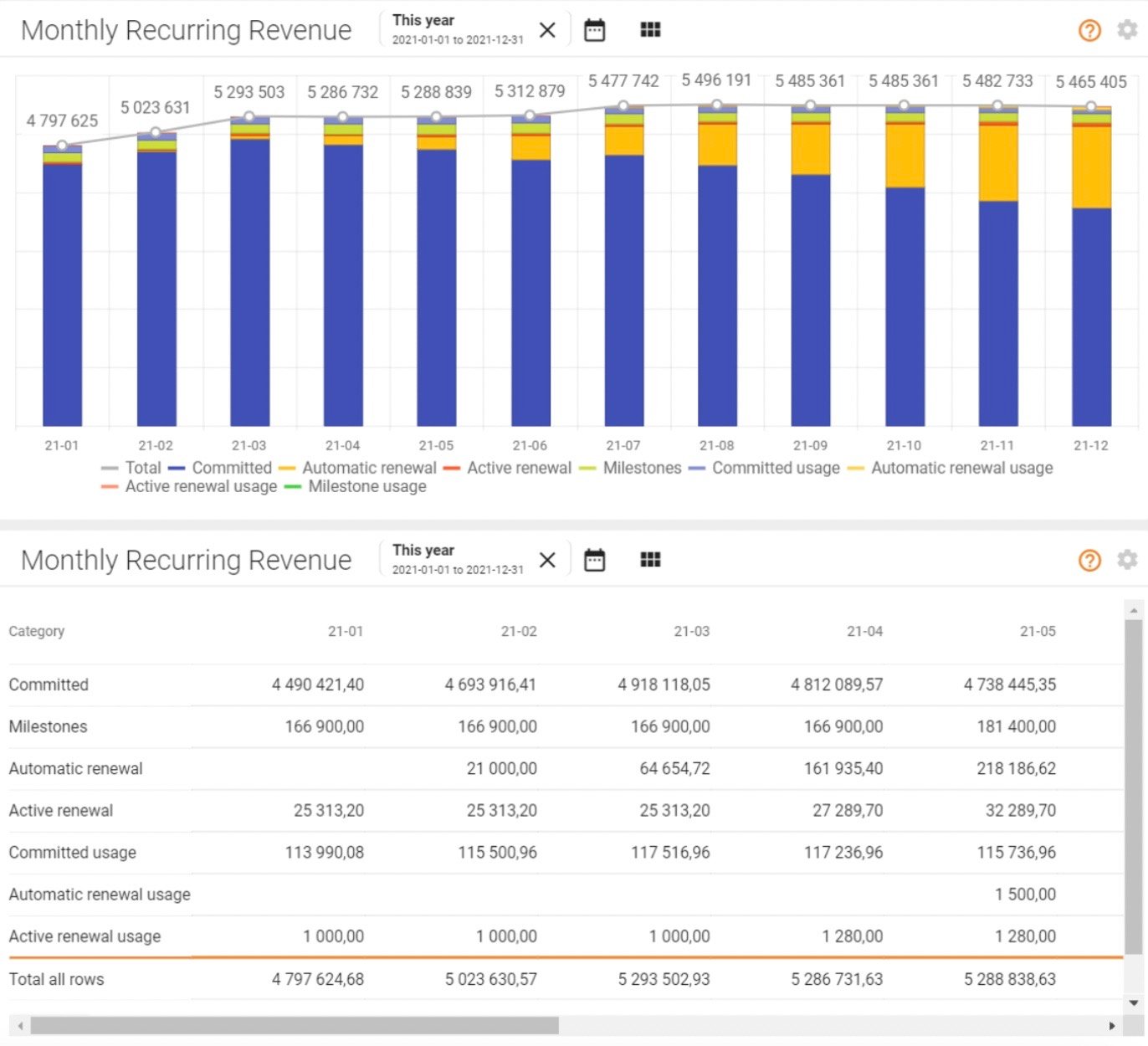 This information needs to be easily accessible and stored in a centralized location.
Cloud-based subscription management solutions allow you to store your data in a single location that can be accessed by key decision-makers in your business.
What's more? They can do this in real-time, and you'll get to access the information from any device.
6. Multiple Integration Options
This is a crucial feature for any SaaS business. With subscription management, the customer journey has touchpoints with many departments.
A good subscription management tool will integrate customer data from different sources and provide a single source of truth. Seamless integrations encourage transparency and collaboration across departments.
The systems it should integrate include customer relationship management (CRM), accounting, enterprise resource planning (ERP), communication, etc.
Younium, for instance, uses connectors to integrate your financial backend with your services and sales channels.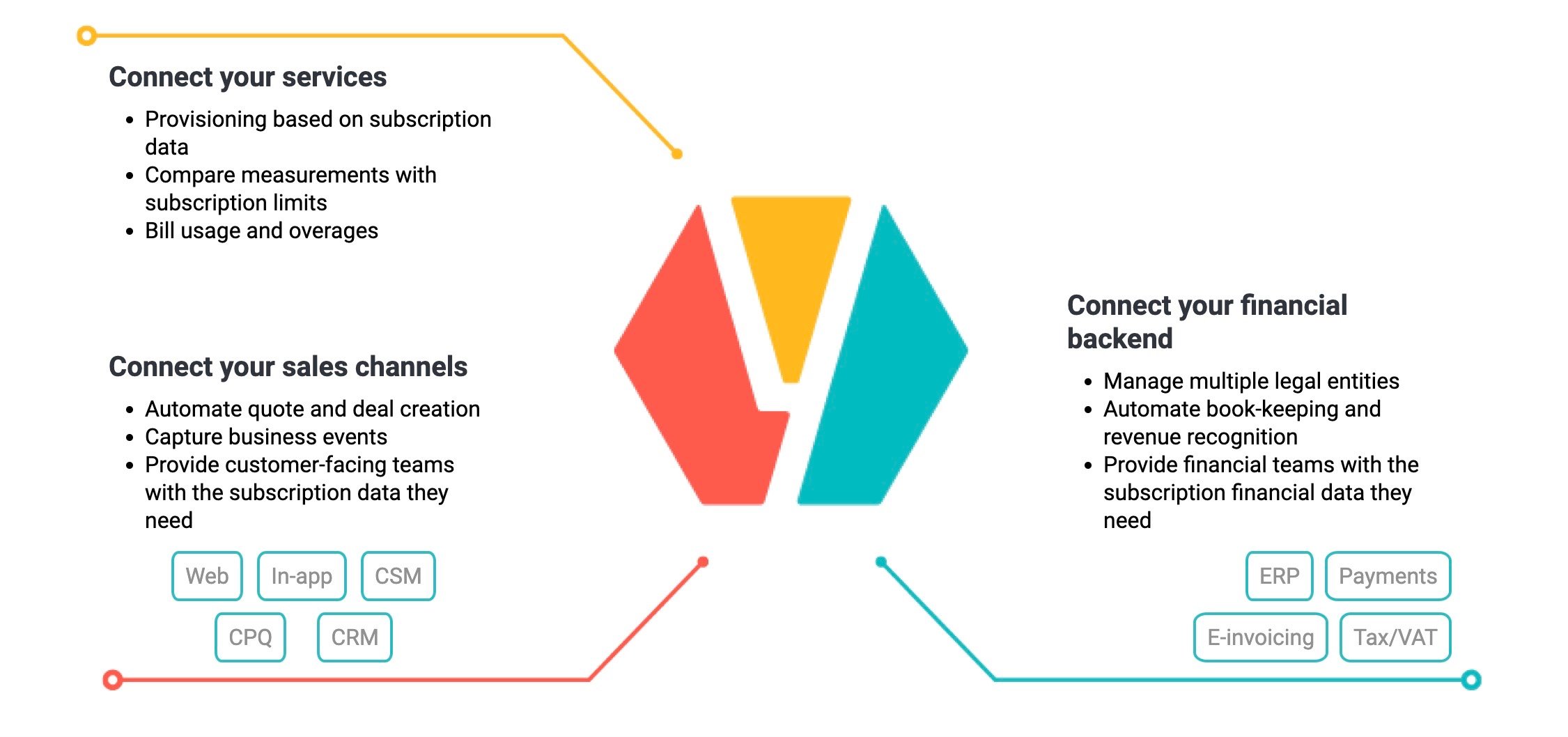 7. Notifications/Reminders
Your business needs a subscription management software solution that sends automatic alerts and reminders. The ability to communicate with your customers promptly and keep them updated is crucial to your business success.
This includes everything from confirmations to payment reminders. As soon as your customers sign on, you'll need to stay in contact with them, and automated alerts help you do that.
Therefore, this is another feature you should look out for when choosing a subscription management solution.
Before we move to the pricing models that SaaS businesses can use, it's important to distinguish between subscription management and pricing.
Subscription Management vs Subscription Pricing
Subscription management helps your business deliver a good customer experience from the moment they sign a contract until they cancel it.
The main goal of subscription management is to ensure this whole process is smooth.
Subscription pricing, on the other hand, refers to how you set prices for your SaaS product. It's about maximizing revenue and also ensuring that you attract numerous customers.
It's also about setting these prices to reflect the true value your customers will get from your product.
The subscription pricing strategy you choose affects your overall customer experience. Here's how.
For B2B SaaS businesses, choosing a subscription pricing model is about more than flexibility and convenience. Your costs partly determine your customer acquisition and retention.
You need to find a balance between revenue and value. If you price your items too high, you may end up losing prospective customers. Also, if you price your services too low, you'll lose revenue.
Therefore, you need a competitive pricing model that attracts and retain customers for the long term.
This next section goes through the most popular subscription pricing strategies that SaaS businesses use.
Subscription Pricing Models For SaaS Businesses
Here are some popular pricing models your SaaS business can consider when choosing a subscription management tool.
1. Freemium Pricing
Here, SaaS companies offer a free service along with other paid plan upgrades. The free version is often entry-level, with basic but crucial features, and is a part of a tiered model.
These features are however limited, and your customers would have to upgrade to a paid plan to access more advanced features.

Image via Slack
B2B SaaS companies like Slack have had success with this type of pricing model.
2. Flat-Rate Pricing
With this model, you offer a fixed rate for all subscriptions. Customers have access to the same features and they pay the same fee.
This is suitable for businesses that offer a straightforward service or product.
3. Usage-Based Pricing
This pricing model is also known as the pay-as-you-go model. With the usage-based model, just like the name suggests, what you pay will be based on your usage.
Email marketing platforms, for example, can charge based on the number of emails sent in a month.
An example of a SaaS company using this model is Zapier. The plans are limited by the number of tasks, as shown below.

Image via Zapier
4. Pay Per User
With this pricing model, your customers will pay based on the number of people using your software.
It's a simple pricing model to understand, both by customers and SaaS companies. Your revenue also grows the more companies grow and add more user accounts.
Here's an example of Sprout Social using this pricing model.
Image via Sprout Social
However, this kind of pricing can be limiting as it gives customers a reason to not have more than one user on the account. It also encourages cheating, as customers may have many employees using the same account to cut costs.
Also, by reducing the number of people using your application, it becomes easier for customers to churn.
5. Tiered Pricing
Here, subscription pricing is based on tiers, with the lowest one servicing entry-level customers and the highest one being the most advanced.
The lower-tier plans often have fewer features or limits on usage, whereas the top-tier plans offer the most advanced features and higher usage limits.
Here's an example of HubSpot using a tiered pricing model.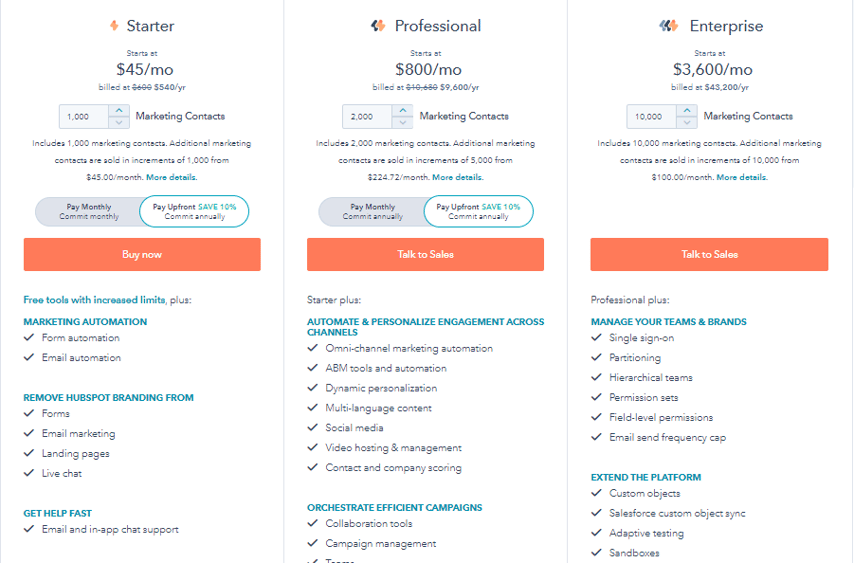 Image via HubSpot
This pricing model enables you to customize your packages to suit different types of clients from startups to enterprises.
This way, you'll maximize your revenue and give your customers room to grow with you as they can upgrade when they outgrow their current package.
6. Subscription with Add-Ons
With this type of pricing model, there's a set rate for basic features that customers need to pay. Then there are extra features that they'd have to pay additional fees to access.
Users get to choose which add-on they want and that offers a lot of flexibility to customers. However, it could get expensive for users that need multiple extra features.
This next section gives you a comprehensive look at what subscription revenue management looks like.
How to Manage Recurring Revenue
Managing recurring revenue can be daunting. SaaS businesses need accuracy in collecting customer data at every interaction.
Here's how to ensure the whole process is effective and that your revenue keeps flowing in.
Offer Renewal Incentives
You could offer your existing customers discounts to help encourage them to renew their subscriptions early. This way, you won't have to send multiple renewal reminders and you'll improve your subscription renewal rates as well.
Automated Pricing and Quotes
By automating quotes, you shorten your billing lead time, so customers take little time to book consultations and place orders. This in turn increases your conversions.
Having automated pricing systems also streamlines the payment and invoicing processes. At the back end, your system also quickly generates commission figures and facilitates renewals.
Automating every process from quotations to payment helps with data accuracy as well.
Introduce New Products Smoothly
Subscription-based business models support various products. You have a dynamic setting where your product can evolve to fit customer needs.
This allows your business to take advantage of cross-sells and upsells to keep your customers with you. As your customers' needs change over time, so should your efforts toward providing them value.
For this reason, you should streamline how you introduce product updates to your customers, then monitor the performance to see if it's doing well or not.
Track Your Key Performance Metrics
Tracking your revenue metrics allows you to gain valuable insights into your SaaS product's performance. You can use these insights to improve your product and customer experience to stay relevant and retain customers.
Empower Your Sales Team
Your sales department is responsible for attracting new customers and keeping your recurring revenue stream alive. You should therefore make sure you train them properly when onboarding and provide them with the right tools as they progress.
Benefits of Using Subscription Management Software
Here's a quick recap of the benefits your SaaS business will enjoy if you take advantage of subscription management software.
1. Saves Time and Money
A subscription management solution can handle the complexities of recurring billing and different pricing models. It can automate a lot of processes to free up time for your employees. And it reduces the scope for error.
Overall, it can ensure accurate revenue recognition and timely collection of payments. This saves a lot of time and money for your business.
2. Reduces Churn
Subscription management software effectively manages your customers, reducing involuntary churn. If your customer service is seamless, your retention rates will improve.
This is important because losing a paying customer who brings in recurring revenue means losing an equivalent of the customer's lifetime value, as opposed to losing a one-time sale.
Therefore, this makes the impact of churn much greater making it crucial to retain customers post-signup.
3. Offers Pricing Flexibility
A subscription-based business model offers flexibility in how you package your products. You'll be able to provide customized products to clients depending on their specific needs.
You can also offer incentives like discounts freely to particular customers to foster loyalty or for promotional purposes. You'll also be free to try out freemiums or offer limited free trials.
All these allow businesses to utilize all possible revenue-generation avenues available. And using a good subscription management system can allow you to offer all this to your customers.
4. Improves Customer Experience
Customers are happy to keep paying for their subscriptions when they can easily manage their accounts. Part of subscription management includes engaging customers constantly and delivering services consistently.
A good piece of software helps you to provide your customers with maximum value and make their experience with your products easier.
5. Reporting and Analytics
Keeping track of data and trends is important for every subscription-based business model. Subscription management software can track this information in real-time.
This is just the kind of convenience businesses need.
Decision-makers should be able to access important analytics in real-time and make prompt strategic decisions. For instance, losing subscriptions isn't the kind of information you want to see periodically, as this means losing recurring revenue.
Some KPIs that matter for your growing SaaS business are:
Customer lifetime value: This refers to the gross profit a customer generates during their entire relationship with your business.
Net monthly recurring revenue: Refers to the net increase or decrease in your monthly revenue. It's calculated as the monthly revenue of new customers minus revenue lost within the month.
Customer churn rates: Refers to the rate at which customers cancel their subscriptions or fail to renew them.
Next, let's take a look at the challenges SaaS companies face and how to overcome them.
Challenges of SaaS Subscription Management
Some subscription management models such as those used by Netflix are simple. Customers subscribe to the service monthly and they get unlimited access.
However, with B2B Subscription management, it gets complex, in both the services provided and customer preferences.
Here are some challenges that SaaS subscription management comes with.
1. Flexible Billing
As mentioned earlier, this is an advantage since for companies no deals are left on the table, while customers get to choose what works for them. However, this is also a disadvantage because of the complexity it introduces.
When different customers have unique needs, it gets difficult to manage each of their preferences. There's more data to track and your business will need a system that accommodates all these variances.
For instance, different customers prefer different billing frequencies and plans. Some will want more or fewer features of the same product and you'd have to bill them differently.
If you experiment with different prices and discounts, then different customers may end up having different monthly prices for the same plans.
These are some complexities your subscription management system will have to keep up with and this can be challenging.
Solution: Maintain a Balance Between Flexibility and Complexity
With subscription models, being able to offer all your customers a product that fits their specific needs can be a difficult task.
While you want to provide a great customer experience, it's also important that the structure you choose makes sense to your business revenue-wise.
Good subscription management means maintaining a balance between value and convenience. You want to allow customers flexibilities like:
The ability to upgrade and downgrade their plans anytime

Option to pay via a preferred mode of payment

Have access to add-ons

Ability to pause and resume subscription as needed
You can provide this level of flexibility along with a suitable price that will reflect the product's value and help you make profits. You need to make your offerings flexible, without making things too complicated operationally.
2. Managing Failed Transactions
Subscription-based business models collect recurring revenue periodically. This benefits your business since you get recurring revenue, but can also be a disadvantage.
Here is how.
With recurring charges comes more financial transactions that your system and teams need to track. Mistakes such as wrong invoicing or double invoicing are more likely to occur as well.
This makes it crucial that you have a complex system that can track all these transactions accurately. Here's an example of such a system in action:


The system would need to know when payments fail, identify customers that are due for payment, and even be able to send alerts to customers whose subscriptions are due for expiry.
Solution: Implement an Adaptable Billing Process
Part of having an adaptable recurring billing process includes implementing a dunning policy that will help your subscription business reduce unnecessary churn from failed payments.
Your subscription management solution will collect and store customer information, allowing you to notify them of their upcoming payments.
Your billing process should also ensure transparency between your business and your customers. For instance, if there are cancellation fees, your customers should know about them upfront.
Subscription management software helps you reduce these errors so your accounting teams won't have to keep making such changes manually.
3. Notifying Customers of Billing Errors
It can be challenging to notify customers of an error on time, whether the error occurred on their end or yours. Therefore, your messaging systems also need to be as fast as your billing system.
Furthermore, besides being fast, you'll need to communicate with them safely and securely, to keep their sensitive information confidential. This can be difficult without a solid subscription management system.
Solution: Software Integrations
You'll need to find a subscription management platform that can easily integrate with your communication systems such as your email marketing tools. This way, you can easily send these updates and alerts promptly.
4. Support for Multiple Currencies and Languages
If your SaaS business has a global reach, it can be challenging if your system doesn't support multiple currencies or languages. While using a currency such as USD may be acceptable, you'll attract more customers by using their local currency.
This may make accounting reconciliation difficult on your end but it improves customer experience, which is worth it. The same goes for multiple languages.
Solution: Start With Popular Languages and Currencies
You can start by introducing the most widely spoken languages by the majority of your customers first, then introduce the rest as your subscription business grows. Similarly, offer the most widely-used currencies and expand when you can.
FAQs
1. What is a subscription management system?
A subscription management system handles the whole process of subscription from the time your business wins a customer, through their onboarding process, up until they decide to cancel their subscription.
It takes care of recurring billing, providing value to the customer, and making sure they have the best customer experience all through their association with your business.
2. What is SaaS subscription management?
The process of providing SaaS customers the best user experience throughout their lifecycle is commonly referred to as SaaS subscription management.
SaaS businesses are software providers that allow people to use their product for a fixed period.
3. What is a subscription and how does it work?
In a subscription-based model, customers are charged periodically for products or services provided. They can choose their subscription plan, how often they will make their payment, and for how long.
Companies using this model get repeated revenue from the same customer as opposed to one-time payments.
4. Is software subscription the same as SaaS?
SaaS refers to how software is delivered to customers, i.e. as a service accessible online and hosted on the cloud. Software subscription, on the other hand, is how this software is monetized, i.e. through recurring billing.
5. What is subscription lifecycle management?
Subscription lifecycle management outlines the needs, procedures, technology, and knowledge required by subscription business models to sign, bill, and retain customers, develop their operations, and make a profit.
Choose the Right Subscription Management Solution Today
Part of the success of your business will depend on how well your subscription management process works. Using an effective subscription management software solution is a crucial part of this.
You want a tool that can:
Forecast your recurring revenue

Accurately recognize your revenue

Centralize all your customer data

Provide robust reports and data analytics
All this will give you better control over your business growth. You'll get to monitor your revenue, track your most crucial metrics, provide the best services to your customers, and reduce customer churn.
Get your Younium free demo now to improve your SaaS business's subscription management process.