This post was last updated on March 6, 2023.
Jump to read

The subscription billing model offers many benefits to businesses like:
Simplicity in tracking billing schedules

A predictable mode of revenue collection

Recurring billing and payment collection
But what is subscription billing?
Subscription billing is a model businesses use to ensure their customers pay automated recurrent fees for products and services offered.
It's a model that has been thriving, more so in the current years. B2B subscriptions are on a rise and the market size for "anything as a service" (SaaS, PaaS, IaaS, etc.) models is estimated to reach $344.3 billion by 2024.
Industries offering the most subscription-based services are the media companies with streaming services, such as Spotify and Netflix. The tech industry is a close second with most SaaS B2Bs offering subscription billing for their software.
In this post, you'll learn:
What is subscription billing?

What are its various types?

How to choose a subscription billing solution

And more!
Let's get started.
What Is Subscription Billing?
Subscription billing involves collecting recurrent payments from customers automatically at set intervals.
With this model, you require your subscribers to sign up for these automated charges. They also select their convenient intervals from the options you provide e.g annually, monthly, semi-annually, etc.
This model can be used for all types of services and products from B2B and B2C businesses.
For all these functions to run smoothly, you need a suitable subscription billing solution.
This solution should:
Have billing cycles for each plan

Allow you to set pricing models for each service provided

Provide different payment options to subscribers

Have a reporting system for subscription and billing information
There are different subscription billing models and software. The billing model and ultimately, the billing software solution you select depends on your business type and setup.
Before we discuss the important features of billing software, let's first understand the different models available.
What are the Different Types of Subscription Billing Models?
Every business knows what works for its needs. When selecting subscription models, this applies as well.
Here are the billing models available for you to choose from.
Freemium
This model works by providing free services with limited features to users, with an option to upgrade to paid plans for more advanced features.
The service provider tries to prove their value through the free plan. If the customers like their product/service, they'll upgrade to their feature-rich paid plans.
One downside to this plan is the risk of attracting subscribers whose needs are completely met by the freemium plan. Hence, there's a need to ensure freemium plans provide limited resources to encourage users to upgrade.
Examples of companies that use this plan include Dropbox, Calendly, and MailChimp.

Image via Calendly
Tiered Fixed Fee
This is the most popular model of subscription billing for most companies. Here, they offer different packages with different fixed fees. There would also be different prices for monthly and annual billing.
Each tier of the plan has different features and the customers can choose the plans that best fit their requirements.
The revenue with this kind of model is predictable and easy to track.
The downside here is the lack of flexibility in case a customer wants to pick and choose the features they want.
Examples of companies using this model include HubSpot and Drip.

Image via HubSpot
Pay-As-You-Go
It's also known as a consumption-based model or usage-based billing.
With this subscription model, you charge clients based on their usage. These charges are made regularly similar to the other subscription models.
This model is convenient for the users as they pay only for what they use. However, one downside to this model is that it's hard to forecast revenue.
Amazon Web Services is an example of a company that uses this model.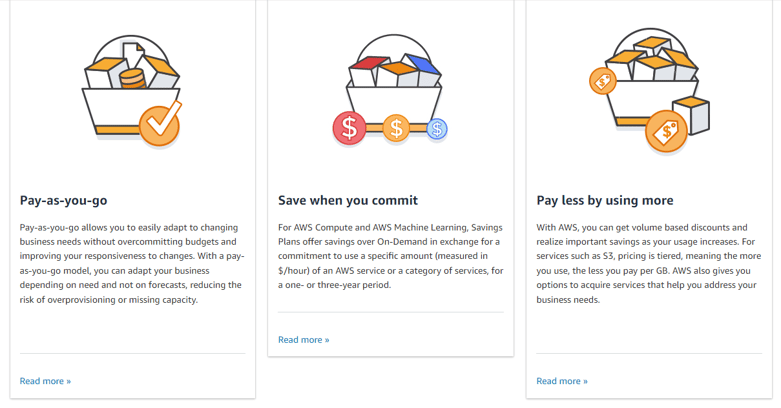 Image via AWS
Fixed Price
With this model, you base your billing on a single fixed-price plan for every subscriber. This is a very predictable and easy-to-track model as you collect the same amount on a recurring basis.
However, it's rigid for both your business and your subscribers. Users may end up paying for features they don't need.
You as the provider on the other hand are not free to explore different avenues of revenue that come with tiered pricing.
One example of companies using this model is BaseCamp. Here's what the plan looks like.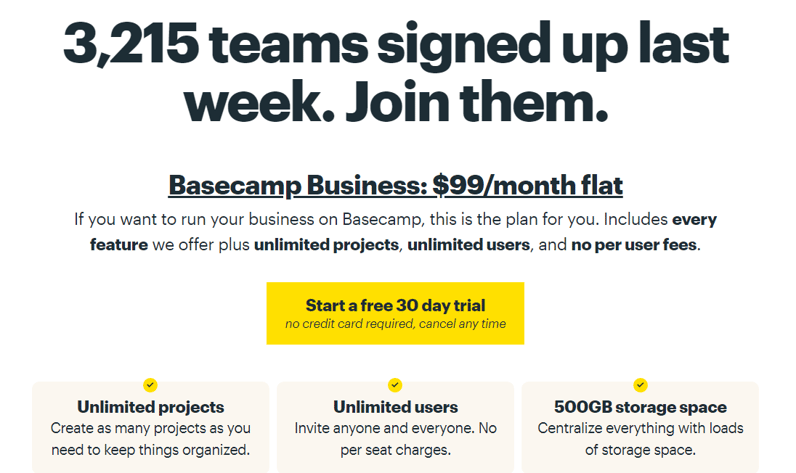 Image via Basecamp
Overage
With the overage subscription model, you charge consistent, recurrent base fees for a set of resources. Then, if your user requires more resources, you charge them additional fees for add-ons or overages.
For businesses using this model, the base plan(s) and set of features, are usually enough for most of their users. Therefore, this model enables them to tap into the extra revenue from their few heavy users.
An example of a company using this pricing model (in addition to tiered fixed pricing) is Textmarks. They allow extra charges for exceeding set limits for SMS and keywords, without requiring their users to upgrade.
Here's a look at their overage requirements:
Image via TextMarks
Custom
This subscription billing method lets your customers choose what they want. You provide your customers with features tailored to their specific needs, then base your pricing on that.
This way, the client only pays for features they need. You on the other hand get to explore different levels of payment with each of your customers.
This method is unpredictable as well and tracking revenue is hard.
Hybrid
The hybrid subscription model lets you combine two or more billing methods.
This gives your customers more flexibility with their payment options. You can also predict your revenue to an extent, depending on the models you choose to combine.
Some examples of hybrid combinations are:
Tiered fixed fee and overage

Tiered fixed fee and custom

Pay per user and tiered fixed fee
For instance, with TextMarks, they have an overage option as shown above, as well as tiered-price and custom options as illustrated below.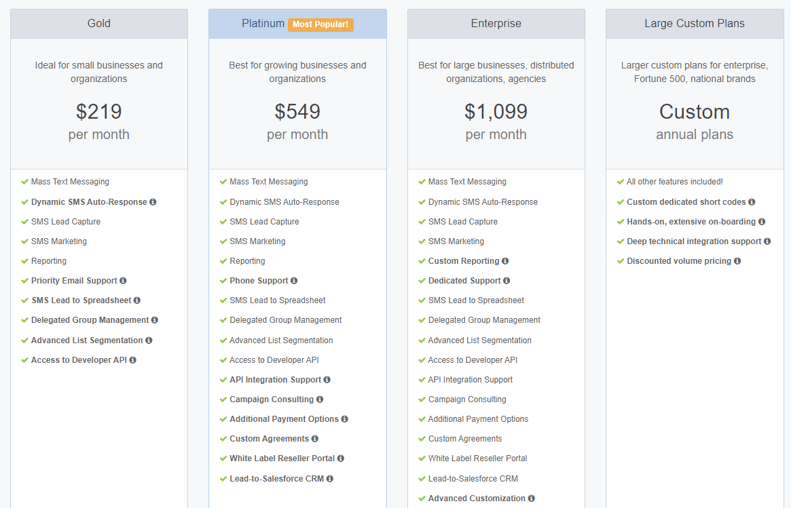 Image via TextMarks
So, you have now learned:
What is subscription billing?

What are the different subscription billing models?
Now, let's move on to subscription billing software and how to identify which one is best for your business.
What To Look For in Subscription Billing Software
When choosing billing software for your SaaS B2B, there are certain important features you should look out for.
Here are some of these features.
Recurring Billing
Subscription billing services run on the recurrent nature of the revenue collected.
Therefore, the software solution you pick needs to be dynamic enough to support this function with ease, regardless of changes made.
This includes:
Ability to support changes in pricing

Allowing different billing intervals such as monthly, annual, and quarterly

Supporting both one-time and recurring billing plans

Ability to automate invoicing and reduce invoicing errors

Delivering invoices to customers after payment via set channels like email

Allowing customization of invoices to fit the clients' brands
Good subscription billing software should have these subscription management options.
Customer Management
This involves managing individual customer details from general to specific. A subscription billing software solution should be able to track customer history and store their transaction details.
This helps recognize customer preferences like:
Their plans and features selected

The pricing model they prefer

Their preferred mode of payment

Payment cycles and intervals

Billing timelines
Here's an example.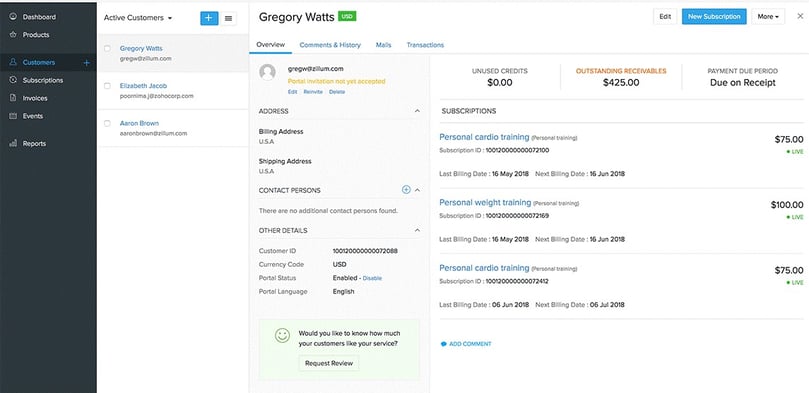 Image via Zoho
With this information, your business will be better equipped to provide great customer support. You'll be able to serve your customer requests more easily.
This data also helps with marketing as you can personalize your promotions and email campaigns for your customers.
Diverse Payment Capabilities
A good subscription billing service can easily integrate with many payment platforms such as Stripe and Paypal.
This way you can offer different payment options to your customers during checkout. Typical payment options include e-invoices, credit cards, debit cards, PayPal, E-wallets, mobile payments, etc.
Here's an example: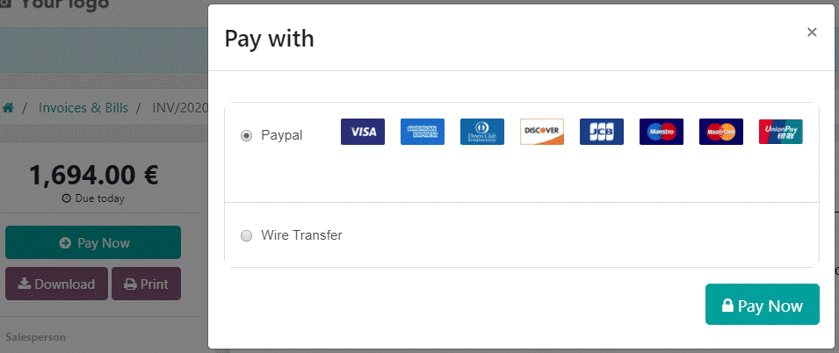 Image via Odoo
This is more important if it's a self-service process. You want to make the payment process for your subscribers as seamless as possible.
That's not all. Other capabilities your payment module should have include:
Both online and offline payment options

Multi-currency payments option

A customizable checkout page

Payment reminders for your subscribers.

Secure payment methods and billing option
Your subscription software solution should also be able to handle failed payments or overdue payments.
What options are available when this happens? Can you send automatic reminders to your clients for delayed or due payments?
This is part of subscription management and it helps mitigate involuntary customer churns.
Accounting Management
Your subscription system should integrate with your accounting system. Some popular accounting software your billing system should integrate with include QuickBooks, Xero, and Zoho Books.
This way, your accounting system can access information about invoices, credits, and discounts. Your business's billing information needs to be synced with your accounting system.
Another crucial feature would be your billing system's ability to automate the tax calculation. It should be able to do this by region, as different locations have different tax laws.
Another automated accounting function your subscription system should be able to support is the payment reconciliation function.
Billing Data and Analytics
Every subscription billing service must have reporting and analytics capabilities. Based on the magnitude of data these systems collect, from subscription to payment information, the analytics data should be detailed.
From these reports, you can access information based on key subscription metrics such as churn rates, MRR, ARR (monthly and annual recurring revenue).
Besides being detailed, the analytics also need to be accurate. The accuracy of metrics tracked helps improve your organization's long-term projections.
For this, your system needs to integrate with analytical software like Google Analytics.
Here's an example of what a billing analytics dashboard would look like.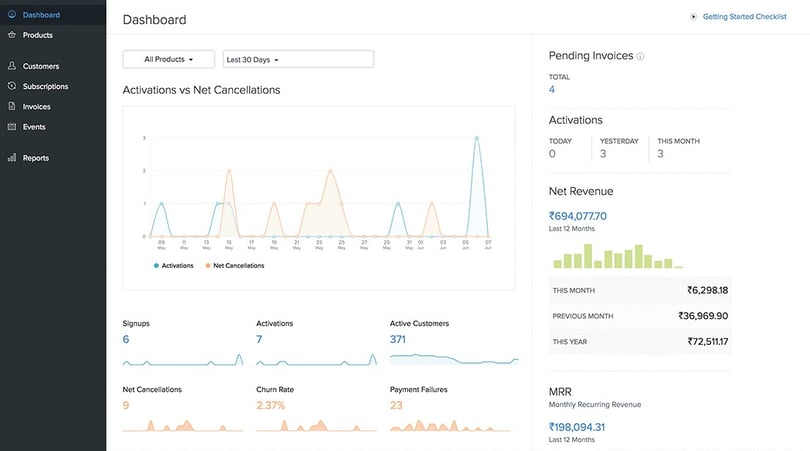 Image via Zoho
Some reports you should expect your system to produce include:
Financial analytics

Churn reports

A/R aging data

Subscription metrics
Other Integrations
Other than the accounting and payment software integrations, your subscription billing system should integrate with other software as well. Here are some examples:
Customer relationship management (CRM) software: This would help with sales management for your business.
Here's how. Once your CRM has access to customer subscription information, then the personalization of promotions becomes easier. This helps in boosting sales.
Also, it synchronizes customer details across your platforms. You can update customer details like email address, contacts, etc. on the CRM platform from your billing platform.
Self-service portals: This enables your customers to track their subscription and billing information online. This way, you won't need to send invoices to your customers. It also makes payments easy for customers and allows them to easily manage their subscriptions.
Customization
How much can your subscription billing software change to fit your business? The more customization options you can get the better.
These customizations could range from changing your pricing and billing cycles to changing the appearance of your invoices.
Building Versus Purchasing Subscription Billing Software
Building a recurring billing subscription software solution may seem good, but it's always easier to buy.
Here's why.
It Will Need Constant Additions and Upgrades
As your business grows and your needs change, and so should your subscription billing system. You'll have to make the following changes to your system as your business grows:
Accommodate additional subscriptions

Add more payment methods

Change customer billing cycles

Fulfil customer requests for upselling and downselling

Pricing changes on plans
Building Software is Time Consuming
Building a subscription billing system, especially for startups, is a long and complex process. Furthermore, your testing phase might take too much time before you could use the system.
This affects both your business's scalability and agility.
Also, due to the constant upgrades, you'll waste a lot of time maintaining your subscription billing system.
Building Costs a Lot More Than Buying
Building a subscription software would require a lot of capital. Think about all the procedures involved and how much they'd cost.
You'd have to pay for development, debugging, testing, deployment, backups as well as ongoing maintenance costs.
And in the end, the application may not be half as good as the one you'd have bought and paid way less for.
Security Risks
By building a subscription billing system, you take the security risks yourself.
This means that you'll have to keep upgrading your firewalls and other security measures to prevent outside intrusions. Also, you'd have to keep up with the security regulations by different security bodies.
The subscription billing systems available in the market come equipped with these capabilities. They're also compliant with the required regulations like being PCI-compliant to accept card payments.
FAQs
1. Are subscriptions considered bills?
Yes, they are. As long as a user makes recurring payments for their subscription.
2. What is the difference between subscription and recurring payments?
Subscription-based payments are recurring payments but with more complex features. These include the ability to choose between plans, change billing cycles, and choose different payment methods.
3. What is subscription billing?
Subscription billing is a model businesses use to ensure their customers pay automated recurring fees for products and services offered.
4. Why do subscription models work?
Subscription models work because they help businesses get different amounts of revenue depending on the value provided using tiered pricing models.
A robust subscription billing model would bill customers automatically after set intervals. This allows them to collect revenue in a timely manner and that helps with business growth.
5. What should I look for in a subscription billing system?
Here are features you should look for:
Recurring billing

Diverse payment capabilities

Accounting management

Billing data analytics

Integrations

Customization options
Find a Reliable Subscription Billing Software Solution
Now that your question, "what is subscription billing?" is answered, it's time to shape your subscription business model. This post has already outlined all you need to know about subscription billing models and how they work.
You need to keep track of your B2B business's recurring revenue. For this, your subscription management, financial management, and research analytics need to be reliable for optimal performance.
What better way to achieve this than to find the best subscription billing software and pricing plans that suit your business?
What is it that you're waiting for?
Switch to a subscription billing model and use a good system for managing it. Get your Younium free demo now to improve your SaaS business's subscription billing process.
All the best!