Jump to read
Let's be honest: it's a struggle on most days for B2B SaaS businesses to ensure accurate revenue recognition, persuade customers for upsells, invoice the correct amount and on time, or positively influence investors to fund your venture.
There is no escaping it. B2B SaaS is, more often than not, a complex business.
And you need subscription management software, like Younium, to untangle the torturous web of 'workflow knots'. If you're interested to see how Younium can help you with your subscription management, request a demo today.
Before we explore the aspects of subscription management, let's understand if your business needs this strategic tool at all.
Is yours an advanced subscription business?
There are simple businesses like Netflix and Spotify that have simple plans, no intermediaries, and straightforward, user-driven payments. They do not really need a subscription management platform.
And then there are advanced subscription businesses that have:
Unique prices and terms for each customer

Subscription features that keep changing during the customer lifetime

Several different products, modules, add-ons and variants

Customers that are businesses, with multiple end-users
If your SaaS company's characteristics fall within this category (in the yellow box as shown in the sliding scale illustration below), it is an advanced subscription business.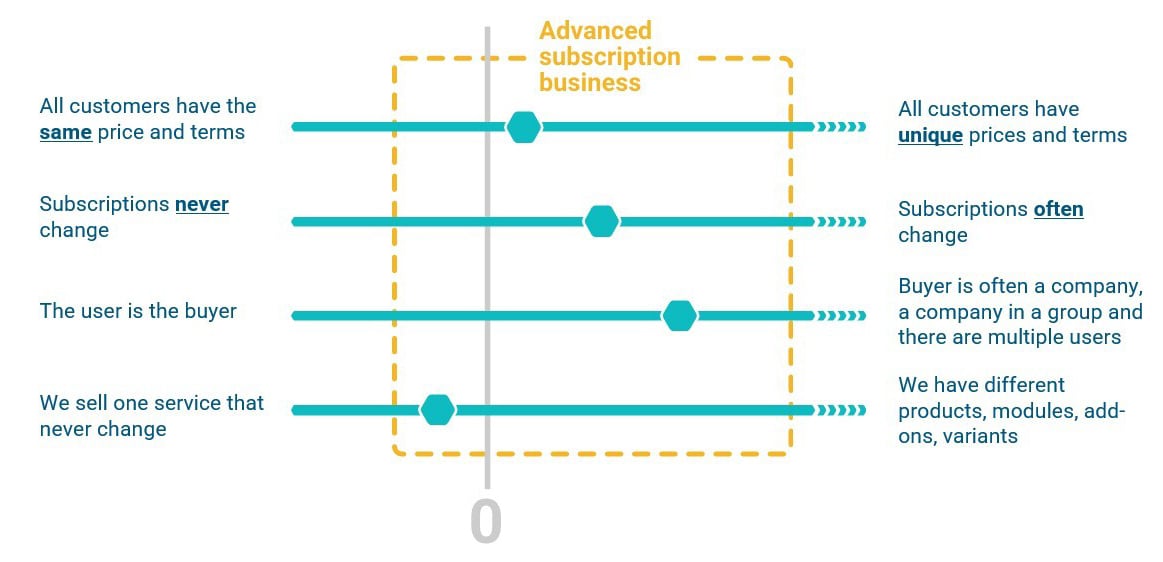 And as a complex SaaS business, if you have an ARR of €1 million, or over 100 customer contracts, you should start shopping around for a subscription hub. At this stage, the additional value offered by the technology will more than make up for its cost.
Workflows that can be managed in a subscription management solution
On any given day, B2B SaaS businesses need to manage a hive of activities including issuing credit invoices and processing partner commissions to renewal uplifts, upselling, downselling, revenue recognition, cancellation, and reporting.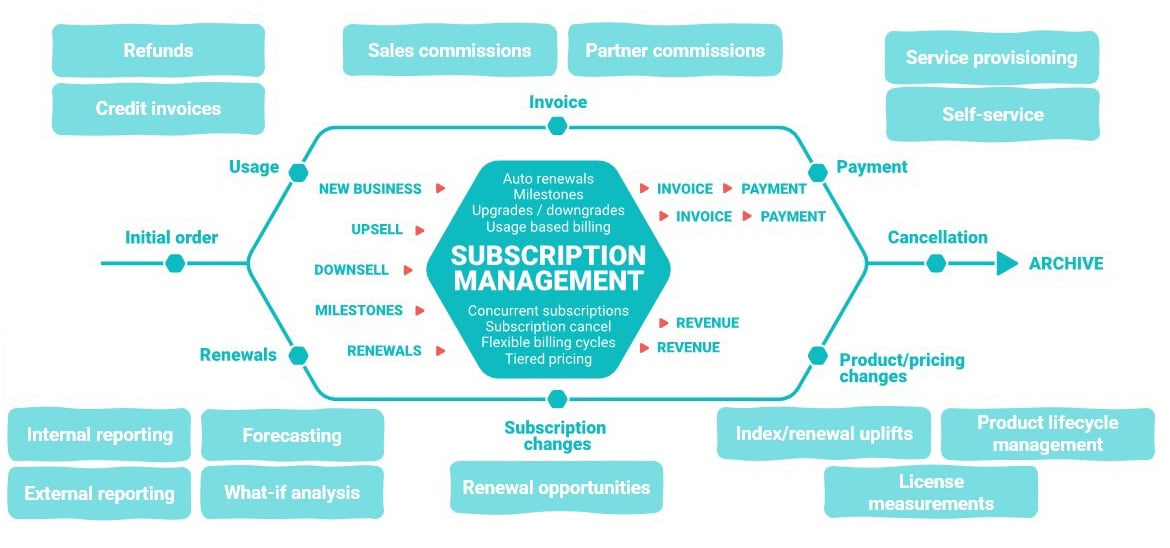 Without forcing you to cross-check with every contract and invoice every single time, a world class subscription hub (like Younium) offers a single source of truth. This means more visibility and business intelligence on many dynamic operations such as:
Reviewing customer usage patterns of the services (for accurate billing and reviewing new subscription plans for customers using existing services)

Tracking product pricing changes or subscription changes

Tracking subscription cancellation and archiving of that information

Creating accurate credit notes for refunds

Monitoring sales commissions and recurring partner commissions

Offering self-service features to customers

Increasing prices based on indexation or changes in product lifecycle

Identifying opportunities for renewal, upselling, downselling, and tracking other milestones

Enabling accurate revenue recognition
By integrating seamlessly with your legacy CRM and ERP, this single source of truth fully supports and enhances internal and external decision-making.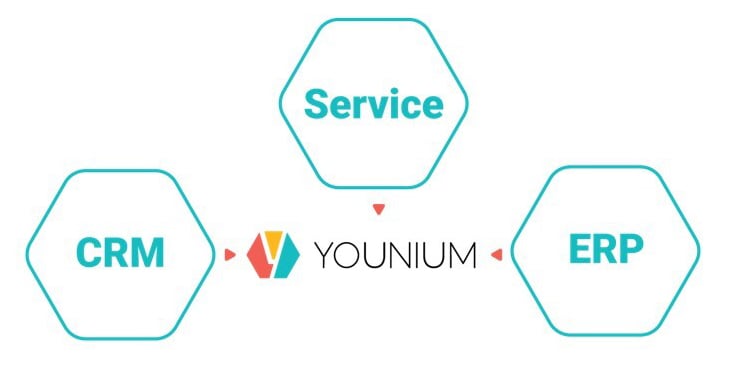 5 steps to achieve greater control over subscriptions (and subscription metrics)

Run referral programs. This will help boost net retention and upsell capability. Also, you must bundle relevant roadmap features and monetize it by selling to existing customers.


Start temporary discounts for the base plan, which makes your solution lucrative and differentiates it from competitors. Then, once customers start to use and rely on your solution, experiment with pricing models.


Ensure pricing and contractual terms are clear to the customer, before signing the contract, to avoid confusion later. Also pre-agree on price indexation. These may seem like an obvious part of the customer onboarding workflow but are often missed by B2B SaaS businesses.


Track and manage subscription data efficiently. For example, offer features/add-ons that the SaaS customers didn't know they needed. Then, present them with improved metrics

upon using the advanced features. This will enable them to see the value in upgrading and scaling their business growth with your solution.


Have you used Younium yet?
Long-term and sustainable growth for your B2B SaaS companies is possible with Younium's suite of subscription management features.
Online and cloud-based subscription businesses stand to benefit, as our solutions helps:
Collate all subscription data under one roof thanks to our API and connectors.

Grow your SaaS business without hiring a large workforce to manage everyday operations, thanks to its automation features.


» No more tedious and expensive manual invoicing, reporting, or data entry.

Invoice the right amount at the right time, and never forget a contract renewal date.

Deliver updated, multivariate reports and forecasts to help stakeholders gauge the performance of your business.

Unlock price management to enter new sales channels and streamline your quote-to-order flow.


Watch our on-demand webinar for more real-life examples and in-depth details about how your B2B SaaS company can benefit from successful subscription management.👇