At Younium, where we're dedicated to serving as the subscription management hub for B2B SaaS companies, staying at the forefront of industry trends is paramount. That's why we sent two of our colleagues to the B2BRocks event in Paris, which took place on Tuesday the 19th of September. In this blog post, we'll delve into the key takeaways and highlights they gathered from the event, offering valuable insights for fellow B2B SaaS enthusiasts.
Event Overview
B2BRocks 2023 was a one-day event that attracted industry leaders, startups, and experts from across the globe. Held in the heart of Paris, this year's event brought together a diverse range of B2B SaaS companies. The event featured a lineup of renowned speakers, including executives from top tech giants and emerging startups, making it a dynamic platform for knowledge exchange.
"In the French SaaS ecosystem, there's clear expansion, and it appears to be highly internationally oriented. Many other SaaS companies and European SaaS communities were present to check out the latest and greatest French technology," said Wolter Rebergen, VP of RevOps at Younium.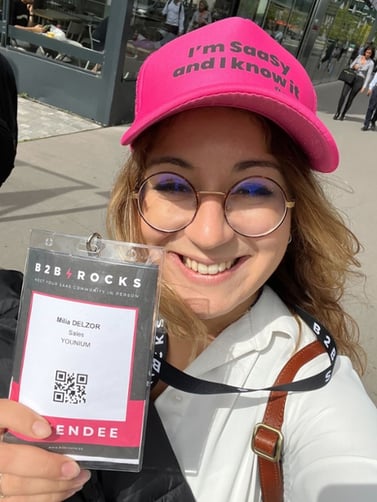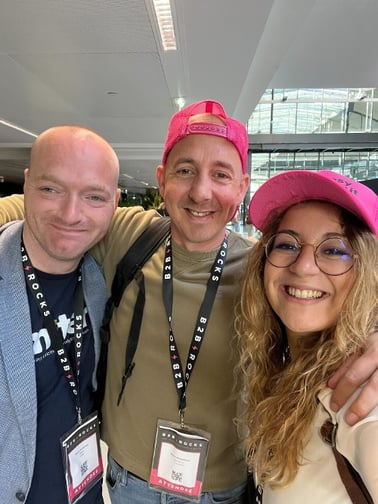 1) Milia Delzor, BDR at Younium 2) David Andersson, Account Manager at M3ter, Wolter Rebergen, VP of RevOps & Milia Delzor, BDR at Younium
Emerging Trends in B2B SaaS
One of the dominant themes resonating throughout B2BRocks was the evolving landscape of B2B SaaS. Attendees were abuzz with discussions on cutting-edge trends such as personalized pricing models, hyper-targeted customer retention strategies, and the growing importance of industry-specific solutions. The event shed light on how companies are adapting to meet evolving customer needs, emphasizing the need for agility and innovation in the B2B SaaS space.
Networking and Connections
B2BRocks wasn't just about absorbing knowledge; it was an opportunity for networking. Our colleagues forged valuable connections with peers, potential partners, and industry influencers. These connections have the potential to fuel collaborations and innovations that can benefit not only Younium but the entire B2B SaaS ecosystem.
It was also nice to bump into good friends from the SaaS Community like, for example, the SaaS Bazen Founder Johan de Vit. Some of you may recall that earlier this year, we had the pleasure of doing a podcast together. If you're interested in diving deeper into our conversation about usage-based pricing and how better subscription management can empower business, you can listen to it here (please note that the podcast is in Dutch).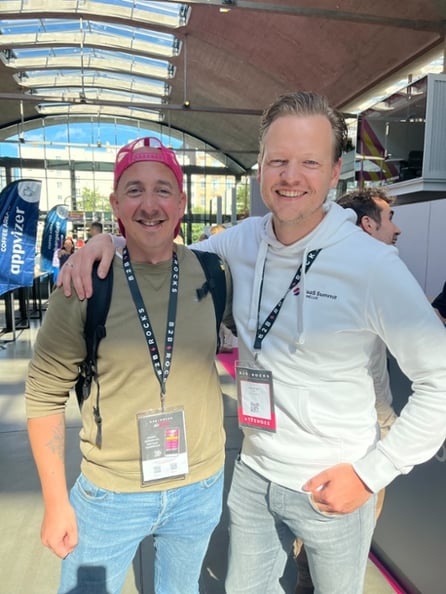 Wolter Rebergen, VP of RevOps at Younium and Johan de Vit, Founder of SaaS Bazen.
Key Takeaways from Younium and B2B SaaS
So, what does it all mean for Younium and B2B SaaS in general? The key takeaways from B2BRocks 2023 are profoundly relevant. We learned that the ability to adapt and innovate is paramount in the ever-evolving world of B2B SaaS. As a subscription hub, we are committed to incorporating these insights into our platform, ensuring that we continue to provide cutting-edge solutions that empower B2B SaaS companies to thrive.
Closing Thoughts
In conclusion, B2BRocks 2023 was a fun event that reinforced the dynamism of the B2B SaaS industry. It showcased emerging trends, provided expert insights, and facilitated invaluable networking opportunities. We encourage everyone in the B2B SaaS sphere to actively engage with such events to stay ahead of the curve and drive innovation to the industry. And of course, be on the lookout for the pink hats as that means that the Younium team is on-site, then drop by and say hi.
Stay tuned for more insightful articles on our blog as we dive deeper into the latest trends in B2B SaaS. Follow us on social media to join the conversation and share your thoughts on the takeaways from B2BRocks 2023.