In the ever-evolving world of B2B SaaS, staying ahead of the curve is not just an option; it's a necessity. The SaaStock Festival in Dublin, a mecca for SaaS enthusiasts, recently unfolded with a treasure trove of insights and networking opportunities. As Younium, the subscription management hub for B2B SaaS companies, our team had the privilege of participating and learning from the brightest minds in the industry. Here are the key takeaways that can revolutionize the way you approach your business.
Streamline Processes with AI
Des Traynor at Intercom, stressed that every business should review its processes and workflows to identify whether AI can eliminate, simplify, or speed up existing steps. This could involve automating repetitive tasks, reducing manual interventions, and enhancing the overall efficiency of business processes. The result? Time and resources saved, and productivity maximized. In today's competitive landscape, if you don't leverage AI, your competitors will.


Transition to Usage-Based Pricing
One of the prominent discussions at the SaaStock festival in Dublin centered around the significance of incorporating usage-based pricing alongside traditional subscription models. The importance of this transition was highlighted, emphasizing that pricing strategies are no longer an afterthought in the SaaS industry; they are now a critical growth strategy. Agile pricing models allow businesses to better cater to their customers' needs and maintain a path of growth. As a result, an increasing number of businesses are shifting towards usage-based pricing as it aligns more effectively with the value provided to customers.

If you're eager to become an expert in the art of usage-based pricing, we have an exciting webinar coming up.


Positioning in Sales Pitch
We were especially thrilled to have the opportunity to listen to April Dunford, as she emphasized the critical role of positioning in your sales pitch. Ensuring your true value proposition is clear and impactful is key. This involves going beyond just listing the features and functions of your product and instead, focusing on helping your potential customers understand why your solution is the best fit for their needs. Positioning is crucial to landing your value proposition effectively. As a company constantly striving to enhance our product offerings, we found her talk to be exceptionally valuable.


Focus on Customer-Centric KPIs

Although traditional Key Performance Indicators (KPIs) provide valuable insights into business performance, industry experts at SaaStock emphasized the importance of focusing on customer-centric KPIs for building strong customer relationships. This approach can help drive revenue growth and enable businesses to thrive in the highly competitive SaaS industry. By prioritizing your customers and gaining a thorough understanding of their needs, you can position your business for long-term success and create loyal customers who will support your growth and success in the future. Therefore, taking care of your customers and comprehending their requirements will lead to natural revenue growth.


Talk, Talk, Talk!
It's easy to get lost in the digital noise of emails and notifications, but the essence of meaningful connections lies in face-to-face conversations. One resounding message from the festival was the importance of setting aside your laptop and smartphone, and engaging with people on a personal level. Building genuine relationships not only fosters trust but also opens doors to collaborations and partnerships that can transform your business.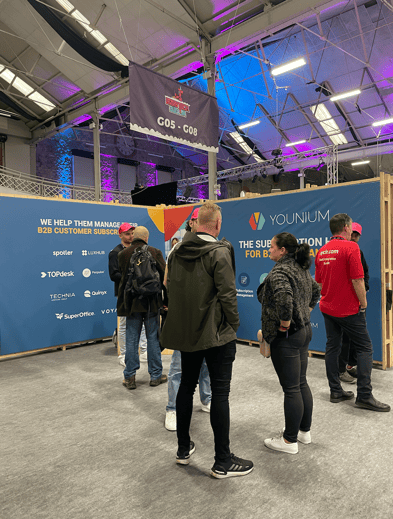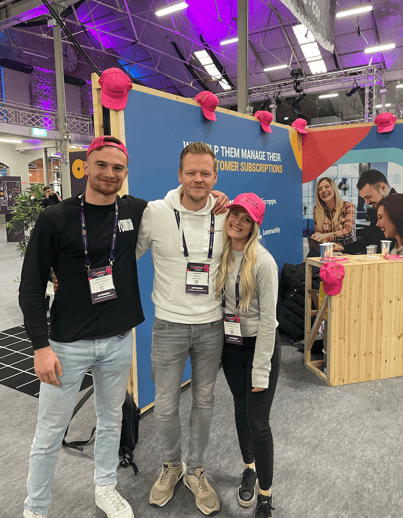 Left: Visitors in our booth. Right: Carlos van Boekhold, BDR @Younium, Johan de Wit, Founder of SaaS Summit Benelux, and Linda Johansson, Senior Marketing Coordinator @Younium
The 3 L's: Listen, Learn, and Leverage
The answer to many of your challenges often lies right in front of you. The festival emphasized the importance of active listening, continuous learning, and leveraging the knowledge and experiences of others. By understanding the pain points and aspirations of your clients and peers, you can enhance your capacity to deliver your best. As Younium, we have always valued the power of understanding our clients' needs deeply, and this mantra resonated strongly at SaaStock.


Stay Ahead in the Competitive Landscape
The SaaS landscape is evolving at a rapid pace, with new players entering the field regularly. To thrive, you must not only understand your prospects but also ensure that you are the perfect fit for their requirements. Building a deep understanding of your target audience enables you to tailor your services to meet their specific needs. By doing so, you position yourself as the go-to solution provider, and prospects will naturally gravitate toward you when the right time comes.


Celebrating Success Together
On a vibrant evening during the festival, Younium and Planhat came together to host an unforgettable Happy Hour. Over 80 individuals, a mix of industry experts and newcomers, gathered for engaging conversations, delightful finger foods, and refreshing drinks. It was more than just an event; it was a celebration of the collaborative spirit defining the SaaS community. Friendships were forged, ideas exchanged, and partnerships kindled, marking a significant shift in how the industry collaborates and celebrates its successes.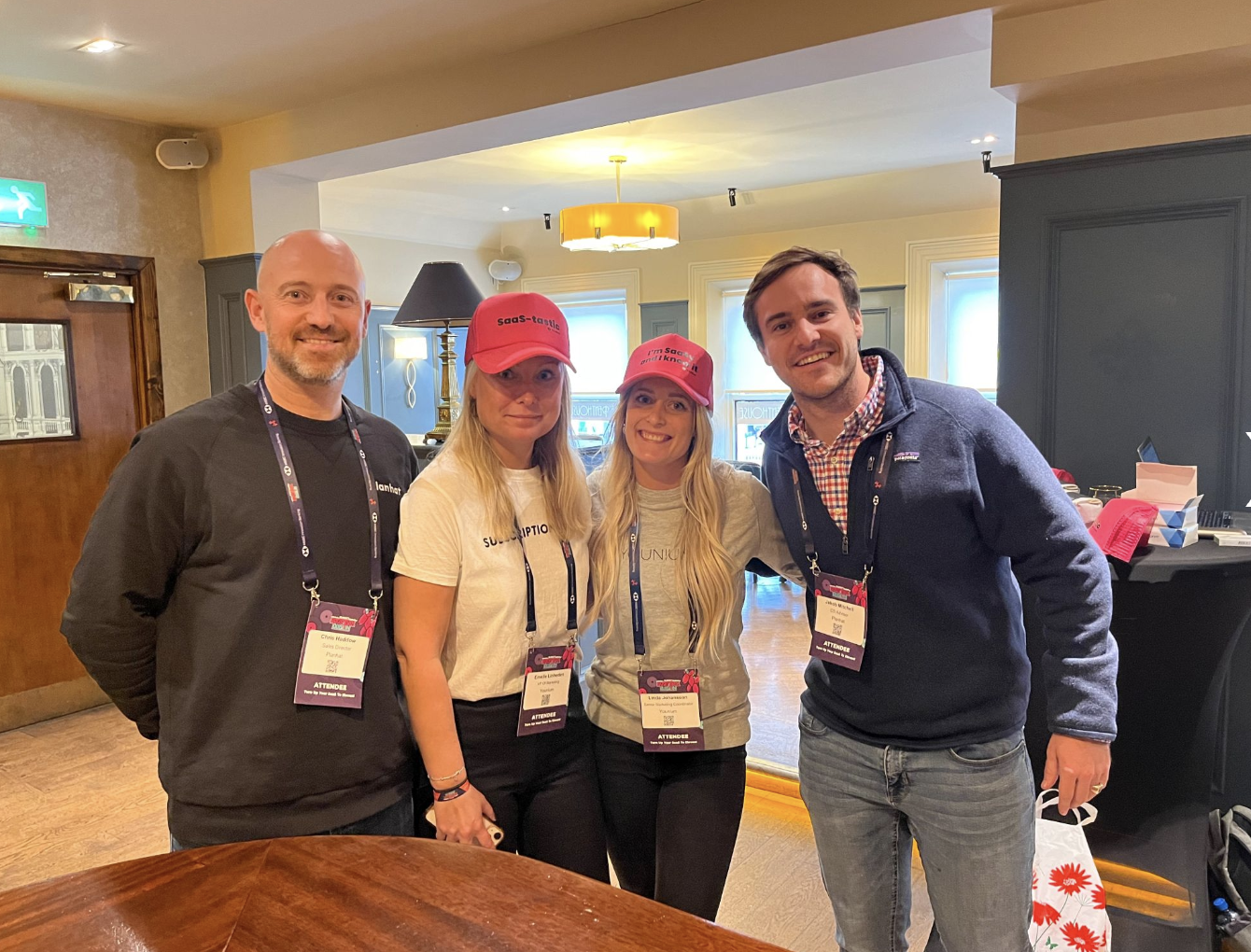 Chris Haddow, Sales Director @Planhat, Emelie Linheden, VP of Marketing @Younium, Linda Johansson, Senior Marketing Coordinator @Younium, and Jakob Mitchell @Planhat
Conclusion
Our journey through SaaStock Festival 2023 in Dublin has illuminated the dynamic world of B2B SaaS and the unyielding pursuit of innovation and excellence. Amid the bustling atmosphere of SaaStock Festival Dublin, we've been reminded of the fundamental principles that underpin successful businesses in the B2B SaaS realm. Talking, listening, learning, and understanding are not just buzzwords but the cornerstones of enduring partnerships and impactful solutions. As Younium continues to innovate in the subscription management space, these insights serve as our guiding light, propelling us towards a future where our clients not only succeed but thrive in the competitive SaaS landscape.
At Younium, we are not just a subscription management hub; we are your dedicated partner, committed to helping you navigate the challenges and opportunities of the ever-changing SaaS industry. Let's embrace these insights together and shape a future where your business reaches new heights of success.
Stay tuned for more updates from Younium, where innovation meets subscription management, and businesses flourish in the world of B2B SaaS.
---
Connect with us on LinkedIn for the latest industry insights, tips, and updates!